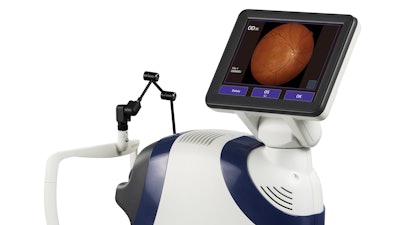 Topcon
Topcon Healthcare has launched the NW500, its new fully-automatic, non-mydriatic retinal camera.
The NW500 offers slit scan illumination and a rolling shutter mechanism, which helps to overcome one of the known causes of poorly graded images in its ability to effectively image smaller pupils, from 2.00mm or more. A 12-megapixel sensor delivers excellent quality color fundus images for clear review and analysis.
The NW500 contributes to a streamlined workflow and enhanced patient experience by offering the ability to acquire retinal images in a lighted setting without the need to dilate patients. The NW500 offers color fundus images across the traditional 3 fixation points (Disc, Center, and Macula), as well as the 9 fixation positions for peripheral photography.
Touch-screen operation offers rapid capture with just one touch. Fully automated operation gives clinicians the flexibility to delegate screening to non-clinical staff. The improved processing speed means it takes less time to capture images and gives operators the ability to increase patient throughput.
A variety of connectivity options are available to suit the needs of clinical and screening businesses.