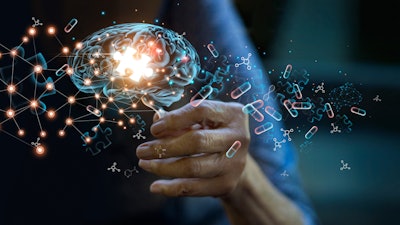 iStock
GE Healthcare's DaTscan has been approved by the U.S. Food and Drug Administration (FDA) for use in patients with suspected Dementia with Lewy Bodies (DLB). This new indication is in addition to its use with single photon emission computed tomography (SPECT) imaging to visualize dopamine transporters (DaT) in the brains of adult patients with suspected Parkinsonian syndromes. With the expanded indication, DaTscan is now available to more patients, including those with suspected DLB, in the United States.
The clinical signs and symptoms of DLB can be atypical and overlap with other forms of dementia, leading to up to 70% of patients with DLB being misdiagnosed, often as having Alzheimer's Disease. This new indication enables clinicians to use DaTscan to help differentiate DLB from other forms of dementia. Early and accurate diagnosis of DLB can help ensure specific appropriate treatment and specialized care for patients, while enabling them and their caregivers to more effectively manage the disease and plan for the future.
The approval of the use of DaTscan in DLB is the culmination of significant work, including clinical trials, compilation and analysis of data and collating evidence for submission to the U.S. FDA, all demonstrating GE Healthcare's continued commitment and investment in this space.
Earlier this year, GE Healthcare announced plans to bolster its Molecular Imaging neurology portfolio by complementing DaTscan with two pipeline radiopharmaceuticals, one for Positron Emission Tomography (PET) and another for SPECT, aiming to offer customers, in both clinical and research settings, a wider choice of diagnostic tracers to help evaluate adult patients with suspected Parkinsonian syndromes.
GE Healthcare's Pharmaceutical Diagnostics unit is a global leader in imaging agents used to support around 100 million procedures per year globally, equivalent to three patient procedures every second. Its Molecular Imaging portfolio combines established proprietary products across cardiology, neurology and oncology, with an innovative pipeline, all aimed at enabling better diagnosis and monitoring for improved therapy decision-making and clinical outcomes.