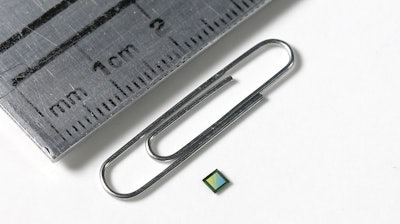 Omnivision
OMNIVISION, a global developer of semiconductor solutions, including advanced digital imaging, analog, and touch & display technology, today announced the OH02B image sensor – a square 2-megapixel (MP) (1500x1500) resolution CMOS image sensor for gastrointestinal, ENT, orthopedic, surgical, dental, and veterinarian reusable and disposable endoscopes, catheters, and guide wires.
It is available in the smallest form factor 2.5x2.5mm CameraCubeChip package (OCH2B) for disposable designs. It features OMNIVISION's AntLinx proprietary technology, which provides the thinnest 4-meter interface connection directly from the endoscope camera to the camera control unit (CCU) tower.
OMNIVISION's AntLinx digital interface connects the OH02B/OCH2B from the endoscope camera to the CCU tower. It features only four thin micro-coaxial cables that reach 4 meters long. It is not affected by noise or electromagnetic interference and has minimal electromagnetic conduction. AntLinx delivers superior video quality and reduces interface conversion requirements, even for long-reach applications like gastrointestinal endoscopy.
The OH02B image sensor is built on OMNIVISION's latest PureCel Plus-S stacked-die technology. It is available in the OCH2B CameraCubeChip package that features a small 2.5x2.5mm size with exceedingly high image quality for disposable endoscope designs.
OMNIVISION is ISO13485 certified and medical products are EMC and EMI tested, which helps to streamline the medical device OEM's FDA approval process. The OCH2B is also biocompatible and waterproof, and the OH02B is autoclavable. It does not require tuning or calibration.