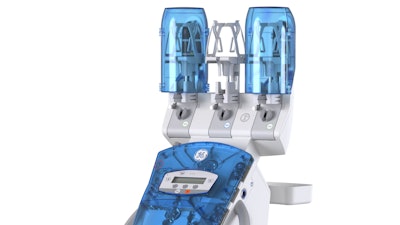 GE Healthcare
GE Healthcare has today announced an agreement with ulrich medical for a GE Healthcare branded contrast media injector in the U.S. The CT motion multi-dose syringeless injector, which delivers iodinated contrast media for Computed Tomography (CT) imaging procedures, reduces procedure setup time and increases patient throughput by eliminating time consuming preparation steps, while helping to optimize patient dosing and reduce wasted contrast media.
Today, the majority of contrast enhanced CT imaging involves radiology technicians filling a syringe with contrast media prior the injection procedure. With the syringeless CT motion, the required dose is drawn and injected directly from the injector's contrast media container, saving time, facilitating the optimal volume of contrast media will be used, reducing wasted leftover contrast and generating less disposable waste. CT motion also provides injection reports accessible via RIS/PACS for dose management systems and records of prior injections to further optimize dose and improve patient safety.
GE Healthcare recently opened a new $30 million additional manufacturing line at its facility in Cork, Ireland, announced an $80 million investment to increase capacity at its Active Pharmaceutical Ingredients site in Lindesnes, Norway, and signed an agreement with the Chile based mining company, SQM, to secure an increasing supply of the key raw material, iodine. These milestones are contributing to GE Healthcare's aim to produce 30 million more patient doses of iodinated contrast media annually by 2025.