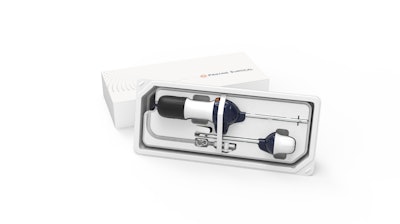 Pristine Surgical
Medical device company Pristine Surgical received 510(k) clearance from the U.S. Food and Drug Administration (FDA) for Summit, a 4K single-use surgical arthroscope designed to improve the efficiency, consistency, and safety of arthroscopic procedures.
Summit combines a 4K single-use surgical arthroscope with cloud-based software – Pristine Connect – to deliver a high-definition image, every time, with a device that is always new and never obsolete. The scope is simple to set up and 100% sterile, ensuring patient and staff safety. Its transparent pricing model and automated inventory management also improve predictability and workflow.
Pristine Surgical developed the Summit single-use arthroscope to address challenges inherent to conventional surgical visualization, which are complex and expensive, and feature reusable arthroscopes that are difficult and costly to maintain. Prone to wear, damage, and potential infection, these scopes can bring inefficiency and variability into the operating room.
Pristine Surgical expects to launch the Summit single-use arthroscope during the first quarter of 2023 with a predictable and transparent subscription pricing model and a convenient, automated re-ordering system. Through industry leading sustainability partnerships, Pristine Surgical will also provide recycling options to its customers.