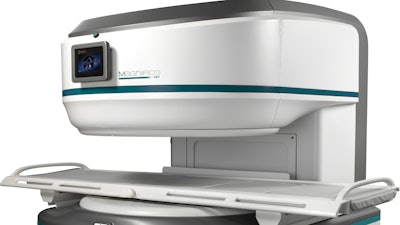 Esaote North America
The rapid increase in pet adoptions across the US has created an unprecedented surge for veterinary imaging services. To keep pace with new demands, Esaote North America, Inc. is excited to announce the launch of the Magnifico Vet MRI system, a new imaging solution uniquely suited to provide diagnostic efficacy in a variety of veterinary hospitals.
Inspired by veterinarians and designed for multiple users, the Magnifico Vet is an efficient vet-centric scanning innovation built for imaging animals of various sizes quickly and easily. It features an ergonomic interface, easy patient positioning, and streamlined data input and patient retrieval.
Imaging protocols designed for vets
The environmentally friendly Magnifico Vet is made with sustainable green permanent-magnet technology, is cryogen-free, and uses significantly less power than superconducting systems – a marvel of functional design primed to deliver excellent diagnostic images.
For simplified workflow, a comprehensive library of vet-centered protocols and iconography have been engineered together with vet luminaries to enhance scanning efficiency and fast-track exams, accommodating a variety of animals without compromising diagnostic quality.
The Magnifico Vet comes equipped with advanced technologies that offer imaging versatility across a broad spectrum of clinical applications, including Speed Up and TR Reduction, advanced data acquisition algorithms that reduce exam times, and Metal Artifact Reduction (MAR), which allows visualization for post-surgical imaging, especially when microchips are present.
With over 20 years of industry experience, Esaote continues to lead by example, delivering cost-effective and compassionate diagnostic imaging solutions that support veterinary clinicians through every stage of the care pathway.