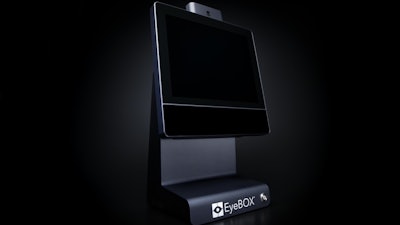 Oculogica
Oculogica announces publication of the initial five-site study performed to obtain FDA Marketing Authorization for its EyeBOX technology as an aid in the diagnosis of concussion. EyeBOX uses eye tracking to assess pupil size and position to determine whether a person has sustained damage to brain regions that control those functions.
The study, published in Frontiers in Neurology Dec. 1, 2022, was performed on 282 emergency room or concussion clinic patients ages 5 to 67 within two weeks of injury. Study participants were evaluated at New York City's Bellevue Hospital, Rochester's Mayo Clinic, Pittsburgh's Allegheny Hospital, Denver's Rocky Mountain Hospital for Children, and Beaver Dam Wisconsin's Community Hospital.
The study demonstrated that patients who had symptoms of concussion and scored poorly on a cognition assessment were more likely to have abnormal eye tracking, as assessed by the technology's proprietary BOX (Brain injury associated Ocular motility dysfunction) Score. The BOX Score diagnosed concussion with over 80% sensitivity.
"The brain has tremendous heterogeneity of normal baseline function. This makes it challenging to figure out normal versus abnormal function when injury occurs. Assessment of pupil size and movement can be a powerful way to assess function because the majority of people have relatively normal function that is controlled reflexively. A person cannot pretend to have pupils that constrict normally and move in a synchronized way when they do not," said neurosurgeon Uzma Samadani, MD, Ph.D., and Oculogica founder. "Similarly, if their brain and therefore pupil function is normal, it is difficult to pretend that it is not. Eye tracking to assess pupil size and position is a truly objective measure of physiologic brain function. We consider it a form of more precise digital neurologic examination. We believe that this will eventually and inevitably become standard of care."
"We decided to publish this data because so many people have asked us what the gold-standard for concussion is, and how one obtains FDA approval for a concussion diagnostic," said Oculogica CEO Rosina Samadani, Ph.D. "The reality is that there is currently no single gold-standard, and that is one of the challenges of any study in the field. We found that those with the worst symptoms and poorest cognition were most likely to have an elevated BOX score. Fundamentally, if a patient has abnormal eye reflexes or movement, that is their objective physiologic condition, regardless of symptom severity or ability to perform on a cognitive test. This information is helpful when people may under or over-report symptoms or have high or low baseline cognitive skills. It also may reduce biases due to language, culture, education or other factors that impact traditional patient assessment."
The EyeBOX technology is the first non-invasive, non-baseline requiring concussion diagnostic approved by the FDA for aid in the diagnosis of concussion. Leading clinics, such as the Mayo Clinic, Midwest Orthopedics at Rush University and Minneapolis Clinic of Neurology, amongst others, offer the technology.