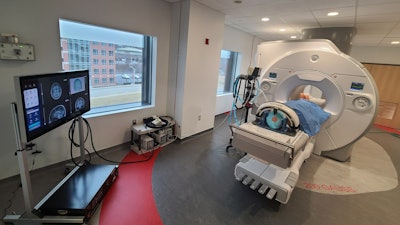 AiM Medical Robotics
AiM Medical Robotics, a developer of MRI-compatible intraoperative robotics for neurosurgery and other applications, today announced changes to its executive team. Gregory Fischer, Ph.D., has been named the company's new Chief Executive Officer, and the company's former CEO, Robert (Bob) Cathcart, has been named Executive Chairman of the board of directors.
Dr. Fischer is a founder of AiM Medical Robotics and inventor of the unique technology used in the Company's MRI-compatible surgical robot. Since its founding, he has acted as AiM's Chief Scientific Advisor and has been actively involved in the development of the Company's technology. Dr. Fischer has been a pioneer in Medical Robotics for 20 years, and has extensive expertise in MRI-compatible components and systems with over 130 peer-reviewed publications, including more than 40 journal manuscripts and book chapters related to image-guided surgical robotics. Having received his PhD in Mechanical Engineering from Johns Hopkins University in 2008, Dr. Fischer is a Professor of Robotics Engineering at Worcester Polytechnic Institute ("WPI"). In addition, he is the Founder of the Massachusetts state-supported PracticePoint medtech accelerator, a state-of-the-art healthcare development and testing facility for surgical robotics, comprising a 3T MRI and operating room dedicated to engineering research and development. AiM is a Platinum member of PracticePoint giving the Company full access to these resources and is headquartered on-site.
Dr. Fischer has been Head of the Automation and Interventional Medicine Robotics Research Laboratory at WPI since 2008. In this capacity, he has been a principal investigator on over $10 million in non-dilutive grant funding, including multiple peer-reviewed NIH grants upon which AiM's MRI-compatible neurosurgery robot and other development platforms are based. This technology is exclusively licensed by AiM Medical Robotics which is producing a surgical robot capable of robotically aligning, inserting, and manipulating neurosurgery instruments inside the bore of an MRI scanner while imaging. The portable system can be readily setup in any diagnostic or interventional MRI, or used as a robotic platform in a traditional OR-based neurosurgery setting. The unveiling of the working prototype was announced in August 2022, and a video demonstration can be viewed on the AiM Medical Robotics website.
"I am highly enthusiastic about kicking off fast and strong to ramp up our technical developments, and achieve substantial milestones this year, which is why I will be scaling back my role at WPI to work full-time as CEO of AiM Medical Robotics," said Dr. Fischer. "I am also thrilled to continue working with Bob Cathcart in his new role as Executive Chairman of our Board, where his expertise in business development will continue to play a vital role in the Company's success."
"We look forward to leveraging Dr. Fischer's substantial experience in MRI-guided interventions to continue developing a unique and world-class system that pushes the limits for what can be achieved in neurosurgery," said Bob Cathcart. "I look forward to continuing to work with him and the rest of the team to improve outcomes for patients undergoing neurosurgery while focusing on other business development opportunities."