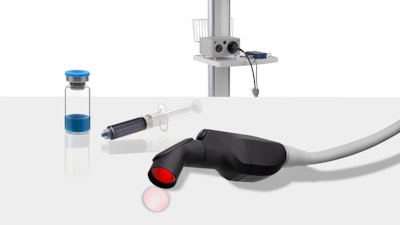 Lumicell
Lumicell, a privately held company focused on innovative fluorescence-guided imaging technologies for cancer surgery, today announced the U.S. Food and Drug Administration (FDA) has accepted and granted priority review for the New Drug Application (NDA) for the LUMISIGHT Optical Imaging Agent and accepted the Premarket Approval (PMA) application for the Lumicell Direct Visualization System (DVS).
The Lumicell DVS is an investigational system designed for use in patients with breast cancer to assist in the detection of residual cancerous tissue within the lumpectomy cavity following removal of the primary specimen during breast conserving surgery. The Lumicell DVS is intended for use with the investigational optical imaging agent LUMISIGHT (pegulicianine) for fluorescence imaging of the lumpectomy cavity.
"The FDA acceptances of both the NDA and PMA submissions for our LUMISIGHT Optical Imaging Agent and Lumicell Direct Visualization System bring us one step closer to advancing care for women with breast cancer," said Kevin Hershberger, president and chief executive officer of Lumicell. "Priority Review designation is further recognition of the potential of our system to significantly improve the effectiveness of breast cancer treatment. We look forward to the FDA's review of our applications, and the potential to offer surgeons the first visualization system to enable a more complete cancer resection during the initial lumpectomy."
These submissions are supported by data from more than 700 breast cancer patients across five clinical studies at top academic and regional community cancer centers. Results of the Investigation of Novel Surgical Imaging for Tumor Excision (INSITE) pivotal trial were published in NEJM Evidence and the Phase C study in JAMA Surgery. The FDA previously granted LUMISIGHT Fast Track designation and the Lumicell DVS Breakthrough Device designation in recognition of the potential important benefit of identifying residual cancer during the initial lumpectomy.
The standard of care for lumpectomy surgery involves breast surgeons and pathologists examining the margins of excised tissue to infer whether any residual cancer remains behind in the breast cavity. As a result, 20-40% of lumpectomies have positive margins only identified days after surgery, necessitating a second surgery to obtain clear margins. Moreover, as reported in published literature, approximately 14% of patients determined by pathology to have negative margins, implying that no cancer remained inside the cavity, had residual cancer left behind. With future approval of our system, surgeons will be able to look inside the lumpectomy cavity to find, and remove residual cancer during the initial lumpectomy, and achieve a more complete cancer resection.