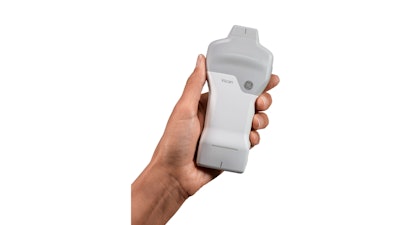 GE HealthCare
GE HealthCare today announced the launch of Vscan Air SL – a handheld, wireless ultrasound imaging system designed for rapid cardiac and vascular assessments at the point of care to help clinicians accelerate diagnoses and treatment decisions. The latest addition to the Vscan product suite, Vscan Air SL features GE HealthCare's proprietary SignalMax and XDclear technology that provide high levels of penetration, resolution, and sensitivity in imaging performance with a single crystal transducer technology.
With cardiovascular disease the most prevalent disease worldwide1 often presenting in emergency situations, prompt diagnosis and treatment can be vital. The portable, wireless Vscan Air SL is designed to enable clinicians to efficiently collect and view cardiac and vascular images at the point of care. By streamlining these workflows and avoiding overloading traditional radiology resources, clinicians can expedite care decisions to help patients receive treatment plans right away when time is of the essence.
With Vscan Air SL, clinicians have a pocket-sized, portable tool that allows for clear, whole-body scanning and secure viewing of images. In addition, through Vscan Air + Digital Tools, clinicians have access to subscriptions that can connect them to a suite of easy-to-use solutions designed to improve workflow with secure collaboration, image, and device management features.
GE HealthCare pioneered the first color pocket-sized ultrasound, Vscan, in 2010 and has since continued to revolutionize the way clinicians treat patients. In 2021, GE HealthCare introduced one of the smallest and most lightweight handheld ultrasound devices with the Vscan Air CL. To date, there are more than 50,000 systems from the Vscan product suite in the pockets of clinicians, impacting the care of more than an estimated 100 million patients worldwide.2 Vscan Air CL and SL continue the company's commitment to innovation and transforming the clinical exam by making it easier to acquire high quality ultrasound images.
Vscan Air SL is currently commercially available in key countries throughout Europe and Asia as well as Australia and New Zealand. In the United States, Vscan Air SL is 510(k) cleared by the U.S. Food and Drug Administration and will become commercially available this quarter.