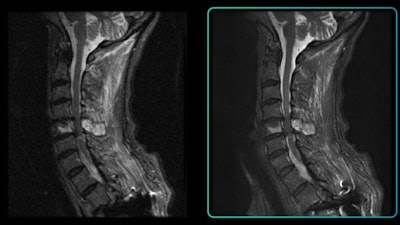 Subtle Medical
Subtle Medical was awarded a federal SBIR grant from the National Institutes of Health (NIH) to expand their artificial intelligence (AI)-powered software solution, SubtleSYNTH, which uses deep learning (DL) to synthesize Magnetic Resonance Imaging (MRI) contrasts from already-acquired contrasts. The software is currently FDA-pending for use in the spine, and the recently awarded grant will allow for further expansion to improve brain imaging with entire exam data. By using more data to enable even better quality and faster images, Subtle's suite of imaging solutions will redefine what's possible for the speed and quality of MRI imaging.
Research recently published in JACR showed that STIR spine images synthesized with SubtleSYNTH's DL technology were superior in image quality and diagnostically equivalent to the conventionally acquired STIR, even at 100% acceleration. By reducing acquisition time for these common MRI sequences down to zero, SubtleSYNTH will be a tool imaging institutions can use both to improve image quality and increase their throughput and operational efficiency. Added benefits are the software's potential to minimize rescans due to motion artifacts, reducing the burden on radiologists and technologists and improving patient care. Future commercial releases will cover additional anatomy.
This is the third NIH SBIR grant Subtle Medical has been awarded. The first was for SubtleGAD, an AI-based software using deep learning to drastically reduce contrast dosage needed during contrast-enhanced MRI exams. The second award was for SubtleIR, which uses deep learning to provide a 4-8x radiation dosage reduction in fluoroscopy exams. Subtle continues to expand product lines in an effort to build a comprehensive ecosystem of solutions that support all imaging needs, from accelerated and low dose imaging, to tackling complex workflow solutions. Meet with us at this year's RSNA to learn more.