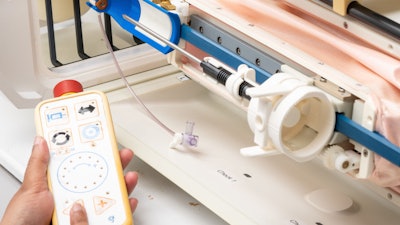 Insight Medbotics
Insight Medbotics announced a successful 510(k) clearance from the U.S. Food and Drug Administration (FDA) for the IGAR system, the company's MRI-compatible robot. The clearance applies to breast biopsy indications.
The company said IGAR is the first and only robotics system designed to work inside an MRI bore to achieve this regulatory clearance. The MRI suite is among the most challenging hospital environments because the MRI device uses strong magnetic fields and has a confined working area for physicians. The IGAR technology platform may be adapted for future products that could move seamlessly across different care environments, such as from an MRI to a standard operating room or into a physician's office.
Insight Medbotics has demonstrated IGAR's safety and efficacy through published clinical studies in breast biopsy. The technology's other possible applications include targeting other organs and disease indications, along with therapeutic delivery and device placement.
The IGAR system is the brainchild of a unique combination of world-class experts in surgery and robotics. Its story begins with Professor Mehran Anvari, a surgical robotics pioneer and the scientific director and CEO of the Centre for Surgical Invention and Innovation (CSii). His team funded the preliminary human trials for IGAR, collaborating with world-leading robotics engineers from MDA—Canada's leading space company—to create and test the device's first prototypes. MDA is known worldwide as the designer and manufacturer of the Canadarm family of space robotics.
Insight Medbotics was subsequently launched as a start-up company by CSii and MDA. The company also received significant funding to develop its technology—including product prototype and clinical testing via CSii and the Canadian Government's Network of Centres of Excellence (NCE) program.
With the 510(k) clearance secured, Insight Medbotics will continue to advance IGAR to market.