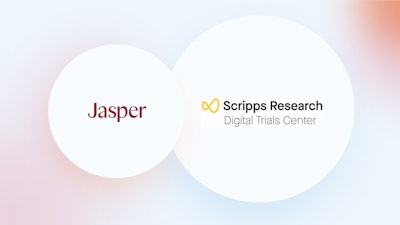 Jasper/Scripps Research
Jasper Health and Scripps Research have entered a longstanding partnership with the goal of advancing the body of literature on improving the lives and outcomes of those affected by cancer.
Jasper Health collects continuous, real-time data insights augmented by clinical and psychosocial data. This data is focused on the whole person, patient-reported data, biometrics data, symptoms, side effects, and patient-specific factors, all of which create learning algorithms to direct care and research in order to improve experiences and outcomes.
The partnership's research will be focused on the role of biometrics data in cancer patients and then more broadly, the effects of digital and human-led cancer care navigation and support on quality of life and longitudinal patient outcomes.
Scientists at the Scripps Research Digital Trials Center will apply their expertise in informatics and machine learning to conduct analyses on de-identified patient data.
The team at Scripps Research pioneered the "site-less" model for conducting clinical research studies—an approach powered by digital technology and centered around the study participant. Their goal is to gather rich, longitudinal health data that will accelerate medical breakthroughs, while making participation in clinical research inclusive, effortless, and rewarding.