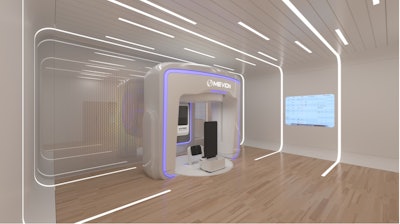 Mevion
Mevion Medical Systems, the leading provider of compact proton therapy systems for use in radiation treatment for cancer patients, today introduced its new product, the MEVION S250-FIT Proton Therapy System.
Enabled by the world's smallest self-shielded proton accelerator from Mevion, the MEVION S250-FIT will be the first and only full proton therapy system that can fit in an existing LINAC vault. The system will feature industry-leading HYPERSCAN Pencil Beam Scanning for Intensity Modulated Proton Therapy (IMPT), dual-energy large bore diagnostic CT at treatment position for IGRT and adaptive therapy, and FLASH research capabilities. It is also designed to support fast access to emerging technologies like ARC therapy.
Thanks to the compact size, the FIT system will further reduce the cost and complexity of proton therapy. As the name suggests, FIT will enable a Fast deployment of an Integrated design and bring the Transforming power of proton therapy to more cancer centers.
The FIT system will be developed in partnership with Leo Cancer Care, a medical device company based in Middleton, Wisconsin, with offices in Europe and North America. Leo Cancer Care is focused on bringing a "more human" approach to delivering radiation therapy and utilizes upright positioning to improve patient experience, clinical effectiveness, and access to radiotherapy.