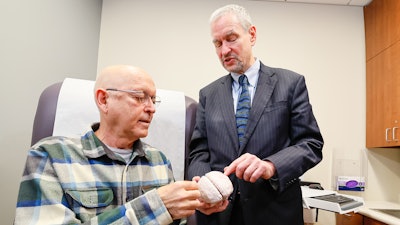 Feinstein Institutes
Nearly all people who develop high-grade gliomas will have regrowth of their tumors at some point, even after surgery, chemotherapy and radiation therapy. Looking to harness the potential of non-invasive ultrasound technology, clinicians at Northwell Health and clinical trial investigators at The Feinstein Institutes for Medical Research have begun to participate in the Alpheus Medical, Inc phase 1 clinical trial and enrolled its first set of patients at North Shore University Hospital (NSUH).
There are few therapeutic options to treat these recurrences for many patients diagnosed with high-grade gliomas, including glioblastoma. This multi-site clinical trial looks to study the safety and optimal dosage of an investigational novel sonodynamic therapy (SDT) platform, which targets solid body cancers through ultrasound.
Yehuda Haber, 62, was one of the first patients to enroll in the trial and undergo treatment at NSUH and the first with his type of brain tumor. Diagnosed 20 years ago with oligodendroglioma, Mr. Haber, a former Israeli Navy SEAL, was treated with radiation and oral chemotherapy. Three years ago, he was referred to Dr. Schulder for treatment with laser interstitial thermal therapy (LITT), an innovative technology to treat small tumor growths. He has had four of these procedures, each of which was successful. However, Dr. Schulder advised him that LITT alone would not be a long-term solution. On October 12, Mr. Haber enrolled in the Alpheus clinical trial, which is aimed at treating the whole tumor.
The non-invasive drug-device combination treatment targets cancer cells throughout the entire brain hemisphere using low-intensity, large-field ultrasound. The method can be done in an outpatient setting, allows for repeat applications, and does not require imaging during the session. The trial plans to enroll up to 33 patients with high-grade gliomas, including glioblastomas, across three sites across the country.