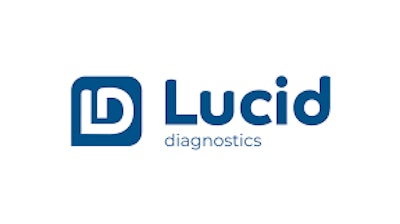 Lucid Diagnostics
Lucid Diagnostics, a commercial-stage cancer prevention diagnostics company and a majority-owned subsidiary of PAVmed, today announced the successful completion of its first #CheckYourFoodTube Precancer Testing Event, in partnership with Rachelle Hamblin, M.D., M.P.H., and the San Antonio Fire Department (SAFD), to detect esophageal precancer in at-risk members of the department.
The SAFD testing event was held over two weekends in January, which has been designated as Firefighter Cancer Awareness Month by the International Association of Fire Fighters (IAFF). A total of 391 members, nearly one-quarter of the department, who were deemed by Dr. Hamblin to be at-risk for esophageal precancer, underwent a brief, on-site, noninvasive cell collection procedure, performed by Lucid clinical personnel using its EsoCheck Esophageal Cell Collection Device.
The samples were sent to LucidDx Labs Inc., Lucid's dedicated CLIA-certified, CAP-approved molecular diagnostic laboratory in Lake Forest, California, where the EsoGuard Esophageal DNA Test was performed. EsoGuard is the first and only commercially available diagnostic test capable of serving as a widespread tool to prevent cancer and cancer deaths through early detection of esophageal precancer in at-risk individuals, consistent with recently updated recommendations from both leading gastroenterology societies. Firefighters with suspected esophageal precancer based on a positive EsoGuard result have been identified, including some less than forty years of age, and will undergo appropriate monitoring and treatment, as indicated by clinical practice guidelines, to prevent progression to esophageal cancer.
At least thirty million at-risk individuals with gastroesophageal disease (GERD), also known as chronic heartburn, are recommended for esophageal precancer testing by professional society clinical practice guidelines to prevent highly lethal esophageal cancer. Precancer detection is essential because esophageal cancer survival rates are poor, even when detected at Stage I. Research shows that this risk is heightened among firefighters. According to research from the National Institute for Occupational Safety and Health (NIOSH), firefighters have a 62 percent higher esophageal cancer incidence and 39 percent higher mortality rate than expected.
In observation of February as National Cancer Prevention Month, and in light of the success of this event, Lucid is seeking to expand utilization of its satellite Lucid Test Centers in support of other public service departments, unions, employers, and other groups across the country that are interested in offering esophageal precancer testing for their at-risk members. For more information, please visit www.esoguard.com/request-an-event to connect with a company representative that can help organize a #CheckYourFoodTube Precancer Testing Event.