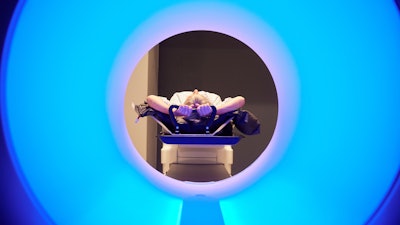 RefleXion
RefleXion Medical, a therapeutic oncology company, today announced the installation of its RefleXion X1 platform at Smilow Cancer Hospital, part of Yale New Haven Health, Connecticut's largest healthcare system. SCINTIX biology-guided radiotherapy, cleared by the U.S. Food & Drug Administration (FDA) in Feb. 2023, for treating tumors arising from primary or metastatic lung and bone cancers, will be installed as part of the integration, with patient treatments expected to begin in the next several months.
"Our hope is that SCINTIX therapy will allow us to expand the reach of radiotherapy as an option for patients with metastatic cancer and combine it with other treatments to improve outcomes for our patients," said Peter Glazer, M.D., Ph.D., chair of the Department of Therapeutic Radiology at Yale School of Medicine and chief of Radiation Oncology at Smilow Cancer Hospital at Yale New Haven. "Currently, treating multiple solid tumors with radiotherapy entails a workflow that is operationally impracticable and very difficult, if not impossible, for patients. With SCINTIX therapy, we will have the ability to treat one or multiple sites of disease in the same treatment session while minimizing delivery of radiation to surrounding healthy tissue."
SCINTIX radiotherapy allows each cancer's unique biology to autonomously determine where to deliver radiation, second by second, during actual treatment delivery. This expands the RefleXion X1 into the only dual-treatment modality platform that can treat patients with indicated solid cancerous tumors of any stage, including stage 4 cancer.
The SCINTIX biologic modality tracks tumor motion from all types of movement, including expected motion from internal processes such as breathing and digestion or unexpected movement by a patient. The X1 also has a state-of-the-art anatomic modality previously cleared by the FDA for solid tumors located anywhere in the body.