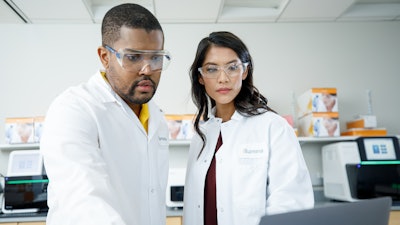 Illumina
Illumina, a provider of DNA sequencing and array-based technologies, today announced the release of Connected Insights, a new cloud-based software enabling tertiary analysis for clinical next-generation sequencing (NGS) data.
Expanding on Illumina's Connected Software portfolio, Connected Insights is designed to streamline interpretation and reporting from a range of assay types, enabling labs to scale use of NGS and reduce turnaround time of clinical reporting via integration of third-party knowledge bases. The initial release will support somatic oncology applications, coinciding with the increasing use of comprehensive genomic profiling (CGP) for advanced tumors. Ultimately it is designed to support a diverse range of applications, soon including whole-genome sequencing (WGS) for rare disease. Connected Insights is commercially available in a limited number of countries. The product is undergoing beta testing in the US.
Growing use of NGS leads to greater need for data solutions
Albrecht Stenzinger, whose lab was an early-access customer of Connected Insights, says there has been a growing push in recent years for more CGP for cancer therapy response prediction at the time of diagnosis, and for the use of whole-exome sequencing (WES) and WGS for rare and pediatric cancers. Along with that, advances in earlier cancer detection and target drug approvals for early-stage disease will fuel the need for further comprehensive testing.
Connected Insights enables labs to connect to a network of more than 45 third-party knowledge sources, including The Clinical Knowledgebase by The Jackson Laboratory. These sources provide digital directories for precision oncology, illustrating connections between cancer variants and therapies, citing evidence, and aiding analysis of complex cancer genomic profiles. Connected Insights can also link users to regional guidelines, clinical trial databases, drug labels, and a private, bespoke collection of data from previous cases within the customer's lab—all of which informs the generation of clinical reports for providers.
A connected software ecosystem
An existing challenge for labs generating genomic data is that analysis pipelines vary across NGS test types, making both standardization and data comparison more difficult. Connected Insights is designed to allow users to manage their data, which can enable standardized interpretation and reporting across NGS test types.
Connected Insights is assay-agnostic and compatible with variant calling files (VCF) from any secondary analysis solution, including Illumina's DRAGEN secondary analysis. Connected Insights supports a wide range of DNA and RNA assays with VCF output, including targeted and CGP panels, WES, WGS, and transcriptomic data from both tissue and liquid samples. As the use of clinical NGS testing grows, Illumina will expand the software's capabilities across other disease areas.