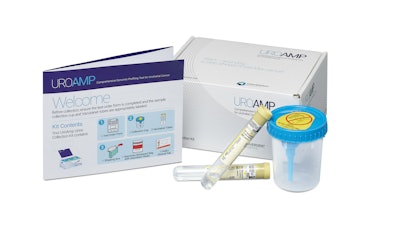 Convergent Genomics
A new genomic urine test can help doctors accurately predict bladder cancer as many as 12 years before clinical signs and symptoms emerge and long before a diagnosis can be made with cystoscopy, the most common method of detection, according to a new study presented here at the 2023 American Urological Association (AUA) Annual Meeting.
Developed by Convergent Genomics, the UroAmp test uses next-generation DNA sequencing and machine learning to analyze urine for mutations across 60 genes linked to bladder cancer while also measuring the entire genome. In the study, a team of American, French and Iranian researchers focused on a subset of 10 genes that hold the greatest predictive power for a future bladder cancer diagnosis. Funding for the study was provided by the National Cancer Institute through a Small Business Innovation Research (SBIR) grant to Convergent Genomics.
Researchers studied UroAmp in two ways. First, they conducted a case-control study with urine samples from 96 control subjects and 70 bladder cancer patients (22 de novo, 48 surveillance). This found UroAmp had an 86% sensitivity in predicting new tumors and 71% sensitivity overall (new and recurrent). Specificity, or the percentage of people who tested negative for bladder cancer and do not have the disease, was 94%.
A second study used a nested case-control design within the prospective Golestan Cohort Study, which contains urine samples from over 50,000 patients taken up to 12 years ago. Researchers analyzed the urine from 29 patients who developed bladder cancer and compared it to 98 control subjects who never developed the disease. UroAmp correctly predicted future cancer in 66% of cases with a 94% specificity. When limited to patients who were diagnosed within five years from initial urine collection, UroAmp sensitivity jumped to 90%.
Previous studies have shown UroAmp's comprehensive genomic approach is more accurate than other methods of detection and monitoring and provides greater insights into a patient's prognosis and risk of recurrence than cystoscopy alone. UroAmp may be administered at home or in a healthcare setting and is analyzed at Convergent's CLIA-certified lab in South San Francisco, where the comprehensive genomic profile and risk assessment are developed.