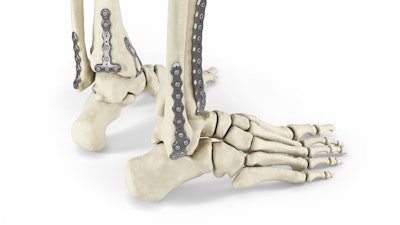 Business Wire
Enovis Corporation, a medical technology growth company, has launched the Arsenal Ankle Plating System, which consists of 37 anatomically designed plates throughout nine plate families, offering a plating solution for any ankle fracture.
The Arsenal Ankle Plating System is the latest addition to Enovis' suite of foot and ankle products and an expansion of Arsenal Foot Plating System.
"I am excited to see the technological advancements and trusted results from the Arsenal Foot Plating system applied to a broader set of indications throughout the ankle," said Matthew Herring, MD. "The plates are stout where it matters and sleek where needed, which makes a difference when treating complex ankle and distal tibia fractures in the OR."
The variable angle locking technology, allowing a 60-degree cone of angulation, multi-lock functionality, accepting repeatable lock and relock of screw to plate interface, and dual lead screws that the Arsenal Ankle Plating System offers, makes for a preferred combination of patented solutions addressing all types of fracture personalities.
"Our Arsenal product line was created to disrupt existing technology," said Gary Justak, President and General Manager of Enovis Foot & Ankle. "In addition to the standard ankle fracture plating options available today, this system features multiple solutions for malleoli fractures including a modernized spin of the proven AO technique of tension band wiring. These are just a couple of reasons why we are proud to introduce this system as we continue our growth journey in the Foot & Ankle market."