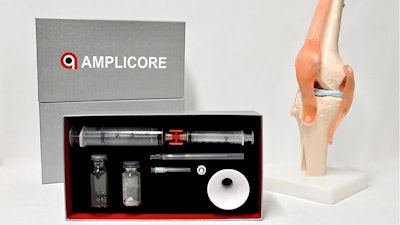 Amplicore
Amplicore, a Mason, OH-based, early-stage biopharmaceutical company specializing in the development of minimally invasive therapeutic solutions for musculoskeletal disorders, today announced that the Food and Drug Administration (FDA) has cleared their first application for AM3101, a novel treatment to promote healing of acute meniscal tears.
The move enables the initiation of a Department of Defense-sponsored phase 1/2b clinical study in concert with the University of Cincinnati.
The FDA clearance marks the company's transition into a clinical stage company. In addition to AM3101, the company's pipeline also includes AM1101, which is being developed for osteoarthritis, and AM2101, with an indication to treat degenerative disc disease.
Amplicore also announced the addition of Steve Schrader to its advisory board. Schrader has held chief financial officer positions in a variety of industries, including an international auto glass company, a private healthcare company, a Fortune 500 public utility, and a NASDAQ-listed startup. He has also taken two firms from start-up to manufacturing.