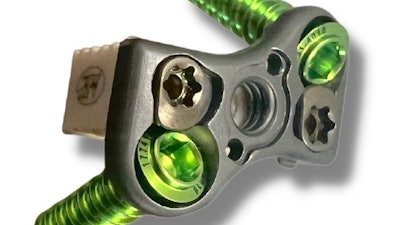 Zavation
Zavation Medical Products received FDA 510K Clearance of Varisync, a cervical intervertebral body fusion device.
Varisync, the most recent addition to the Zavation cervical spine portfolio, has been tested and approved for both the independent and synchronized use of its plate and spacer components. This allows Zavation's surgeon partners to use these plate and spacer options together as a system or pair individual components with any of Zavation's existing cervical portfolio options. The Varisync plate includes visual and tactile confirmation of locks, ideal screw angulation, multiple insertion devices, and optimal spacer placement in the disc space.
"Our product development team's dedication to creatively blending simplicity and precision in a robust product design has produced a product that we believe is the new gold standard in facilitating patient fusion in a seamless and simplified procedure," said Jeffrey Johnson, Chief Executive Officer "With the extensive interbody offerings that Zavation boasts, it only makes sense that we develop a device, that allows surgeons to easily integrate and place a plate and spacer combination of their choice." This product is an example of Zavation's commitment to offering innovative and differentiated products in conjunction with market leading customer service to best serve our surgeons and distributor network."