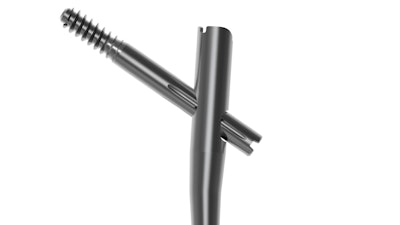 Stryker
Stryker has launched the Gamma4 System, strengthening the product's 30-year legacy of continuous innovation and clinical history. The newest Gamma System will provide surgeons with the next generation of Stryker's intramedullary nailing system.
"Since 2004, the Gamma3 System has been the proven work horse of our Trauma business," said Eric Tamweber, Vice President and General Manager, Stryker's Trauma business unit. "But we aren't proven because we have a legacy; we have a legacy because we are proven. That's why we're so excited to introduce Gamma4—an enhanced, modern product that is designed to fulfill our customers' hip fracture needs.1"
The Gamma4 System is indicated for the treatment of stable and unstable fractures as well as for stabilization of bones and correction of bone deformities in the intracapsular, trochanteric, subtrochanteric and shaft regions of the femur (including osteoporotic and osteopenic bone). The system features:
Precision Pin: With the Precision Pin, the potential for skiving is reduced by 66% compared to a standard ∅3.2 k-wire.2
A redefined nail design: The SOMA-designed nail features length-dependent RoC, a shortened proximal body and a chamfered distal tip with a pre-inserted set screw.
An integrated instrument platform: The streamlined portfolio of all Stryker nails now works off the existing IMN Basic set.
"Our design team spent the last decade working to understand how we could enhance the Gamma System based on surgeon experience and feedback," said James Maxey, M.D., orthopaedic surgeon and a design surgeon for Gamma4. "Our goal when designing the Gamma4 system was to make it easier for the surgeon—and better for the patient. Being one of the most commonly used devices to repair a hip fracture, I'm confident that we met our goal of reshaping patient hip fracture care for many years to come."
"The Gamma4 System features the Precision Pin™, which allows me to control the placement of the Lag Screw while having familiar instrumentation to the T2 Alpha System," said David Forsh, M.D., an orthopaedic surgeon at Mount Sinai Hospital in New York. "The instrumentation is sleek, the nail design and geometry have been enhanced and the nail facilitates the ease of insertion, which is one of the biggest benefits I have experienced firsthand in the operating room."