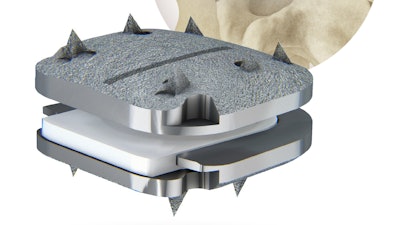 Centinel Spine
Centinel Spine, a medical device company addressing cervical and lumbar spinal disease through anterior surgical access, announced the first implantation of its prodisc C Vivo Cervical Total Disc Replacement (TDR) product in the Western U.S.
In July, the company received U.S. Food and Drug Administration approval for 1-level indications for prodisc C Vivo, prodisc C SK, and prodisc C Nova. Along with the currently available prodisc C implant, which remains the most studied TDR technology, Centinel Spine now has the broadest offering of cervical TDR solutions in the world to address surgeon preference and individual patient anatomy.
Dr. Alexandre Rasouli of Rasouli Spine in Beverly Hills, CA performed the prodisc C Vivo procedure.
"The prodisc portfolio in general has a long history of clinical excellence, utilizing a proven mechanism of motion combined with established materials. The prodisc C Vivo system was extremely easy to use and combines well-designed instruments along with a streamlined technique. This system will be a valuable treatment option for my patients, especially in the outpatient setting," said Rasouli
The prodisc C Vivo system has been in clinical use internationally since 2009 and is currently one of the most frequently implanted TDR devices outside of the U.S. Similar to all prodisc products, the prodisc C Vivo device incorporates prodisc CORE technology, the basis behind the predictable clinical outcomes of the prodisc platform after 30 years and over 225,000 implantations worldwide*.