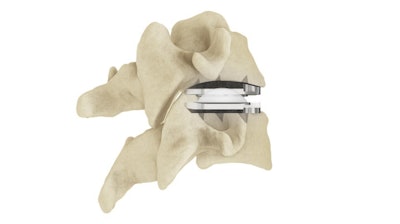 Centinel Spine
Centinel Spine announced the 100th completed procedure in the United States with its prodisc C Vivo Cervical Total Disc Replacement (TDR) product.
This milestone was achieved after the company announced the first U.S. implantation of the prodisc C Vivo on Sept. 7. During this short period, the company has trained more than 70 surgeons and more than 30 new surgeons are now using the system.
The prodisc C Vivo system has been in clinical use internationally since 2009 and is currently one of the most frequently implanted TDR devices in the world. The device has keel-less fixation and combines a unique anatomically-designed superior endplate with lateral spikes to optimize fit and provide immediate fixation. Similar to all prodisc products, the prodisc C Vivo device incorporates prodisc CORE technology, the basis behind the predictable clinical outcomes of the prodisc platform after 30 years and over 225,000 implantations worldwide.
Centinel Spine's cervical TDR portfolio includes four devices approved by the U.S. Food and Drug Administration for 1-level indications, offering the broadest spectrum of solutions to address surgeon preference and individual patient anatomy.