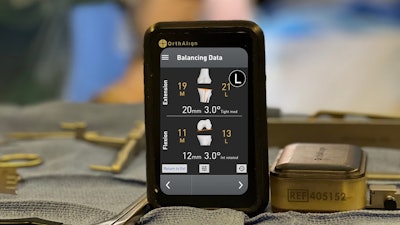 OrthAlign
With its recent addition of the Balance feature to the Lantern platform, OrthAlign, Inc. is delivering an instrument that aids surgeons in soft-tissue balancing during primary and revision knee replacement procedures.
The first soft-tissue feature to appear as part of the Lantern Knee application, Balance works in conjunction with the company's Lantern handheld device, a smart-phone sized instrument that allows for accurate positioning during partial and total knee arthroplasty.
The initial release spanned over 10 states, reaching from Hawaii, to California, to Florida, and Connecticut, with surgeons using Lantern Balance in both primary and revision knee procedures to provide accurate component positioning and ligament balancing. The feature gives surgeons intra-operative information of the patient's flexion and extension gaps, which is a game changer for Lantern.
Currently, most surgeons balance the soft-tissue using manual qualitative methods; Balance provides quantitative support to enhance accuracy.
"Determining a patient's balance has historically relied on a surgeon's ability and skill, which presents difficulties as it relates to reproducibility and standardization across surgeons. Modern technology, like the Lantern Balance System, now allows surgeons to more precisely and repeatedly measure the ligament tension of the knee to balance the knee in a manner that is both individualized for that patient and reproduceable across surgeons and sites of service," said Michael Ast, MD, Chief Medical Innovation Officer of the Hospital for Special Surgery in New York.