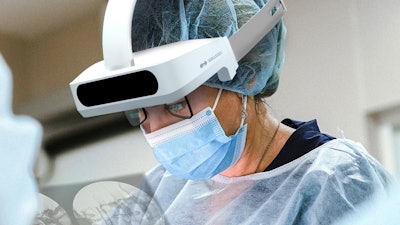 Surglasses
Surglasses said that its Caduceus S AR Spine Navigation System has received clearance from the FDA and the company is ready to launch its products into the U.S. market in the first quarter of 2023. Caduceus S is an augmented reality spine navigation system that will require only a few shots of C-arm images to equip the surgeons with AR and pre-surgical planning with trajectories for spine surgery.
Caduceus S is a medical technology with AR has intended use to be used during complex spine surgeries. The system is designed to allow surgeons to superimpose the 3D spinal anatomy on a patient during surgical procedures. It comes equipped with multiple trackers and displays preoperative planned trajectories via 3D AR head mounted display.
Caduceus S is equipped with a transparent head mounted display to enable the surgeons to put projections from the navigation system into the HMD and at the same time have 100% field view of the patient. Enabling the surgeons to have focus on to the patients rather than turning the head to look into the external monitors placed in the surgical theaters.