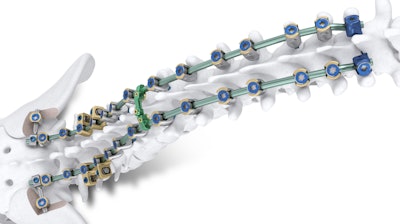 Orthofix
Orthofix Medical, a global spine and orthopedics company, today announced the full commercial launch of, and first patient cases involving, the Mariner Deformity Pedicle Screw System.
The first product launched since the merger of Orthofix and SeaSpine earlier this month, the Mariner Deformity Pedicle Screw System developed by SeaSpine is built upon the strength and versatility of the foundational Mariner Pedicle Screw System to address the unique clinical requirements of complex adult deformity spine cases. The full commercial launch adds advanced reduction and correction instrumentation, specialized implant technologies, and robust osteotomy tools to deliver efficient and powerful surgical intervention.
"The Mariner Deformity System represents an innovative collaboration between surgical minds and a cutting-edge product development team," stated Dennis Cirino, SeaSpine's Senior Vice President, Global Spinal Systems. "Combined with our market-leading biologics and 7D FLASH™ navigation with machine vision accuracy and segmental registration, this system is designed to deliver a full solution that meets clinical needs and advances the modular platform of the Mariner family."
The Mariner Deformity System incorporates the strength of Mariner's modular technology to provide a comprehensive implant offering while reducing the number of surgical trays typically associated with deformity surgery. This reduced physical footprint is intended to result in improved workflow, limited operating room clutter, and reduced sterile processing costs to the hospital. Furthermore, this system expands the differentiated capabilities of the novel "gimbal" technology incorporated into the Mariner family of products to enable more efficient placement of complex instrumentation.
"The Mariner Deformity System has benefitted from both ergonomic refinement and strategic product differentiation," stated Pawel Jankowski, M.D., neurosurgeon at Hoag Memorial Hospital Presbyterian in Newport Beach, California. "The team has done a tremendous job in creating an inspired, comprehensive complex adult correction platform."