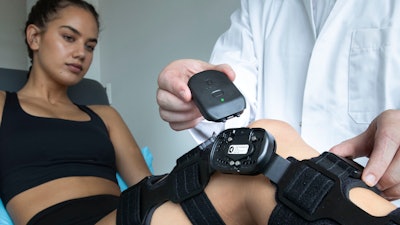 OPUM
OPUM has released the Digital Knee clinical data standard that builds a digital representation, or twin, of a patient's knee. The standard is focused on data collection outside of the clinic to deliver a continuous holistic picture of a patient's knee health across four key categories; 1) anatomy, 2) symptoms, 3) function and 4) activities/participation.
A digital twin can be created by patients within 15 mins by answering a short questionnaire (self-reported data) and undertaking remote examinations (objective data) with a sensor that meets the standard in terms of accuracy and breadth of assessment.
OPUM's next mission is to collect 10,000 digital twins to build a trusted population database of healthy and pathological knees to give providers confidence utilizing remote data for clinical decision support. For example the Digital Knee can act as a an initial triage tool and/or identify high-risk post-surgical patients based on population norms to empower clinicians to make decisions on the best interventions and care pathways.
OPUM is currently partnering with medical device manufacturers to broaden uptake of the Digital Knee® standard. "Our philosophy is that the Digital Knee standard is made available across wearables, knee orthotics and prosthetics as well as smart implants to standardize data reporting while ensuring patients have access to the most appropriate devices throughout their care journey" says Andrew McDaid, founder of OPUM.
The Digital Knee standard has been developed in conjunction with surgeons, physical therapists, researchers and other musculoskeletal experts in the U.S. and internationally. OPUM has released the Digital Knee v1.0 and will continue to work with leading experts to refine the standard adding more advanced metrics and condition specific protocols such as Digital Knee ACL.