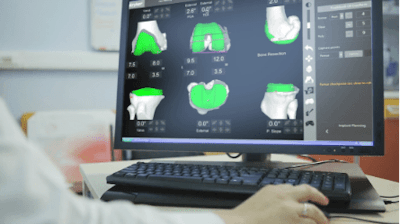 Stryker
Stryker announced today the launch of Mako Total Knee 2.0, the next chapter in Mako SmartRobotics, at the AAOS 2023 Annual Meeting in Las Vegas. Informed by over 500,000 Mako Total Knee procedures, Mako Total Knee 2.0 is designed to deliver the same, trusted outcomes surgeons expect from Mako with a new, elevated user experience.
Mako Total Knee 2.0 introduces a new design, customizable workflow and other key features, including an innovative digital tensioner that allows surgeons to assess the stability of the knee intraoperatively during a total knee arthroplasty (TKA) without the need for additional instrumentation. Mako Total Knee 2.0 is built on the legacy of Mako SmartRobotics™ and its three key components – 3D CT-based planning, AccuStop haptic technology and Insightful Data Analytics, which have shown better outcomes for total knee, total hip and partial knee patients, compared to manual surgery.
"Mako Total Knee 2.0 combines our cutting edge Mako Technology with our clinically proven Triathlon implants to help surgeons deliver enhanced patient outcomes," said Don Payerle, president of Stryker's Joint Replacement division. "Over the last six years, we've gathered key feedback from our customers and incorporated those findings into the development of Mako Total Knee 2.0 – reflecting our ongoing commitment to our customers and their patients."
Today, there are Mako Systems installed across 35 countries, and more than 1 million Mako procedures have been performed worldwide.
"Stryker's recent 1 million procedure milestone is an unprecedented achievement in orthopaedic robotics and a testament to the overwhelming global adoption and patient impact of Mako SmartRobotics," said Payerle. "We look forward to continuing to help so many patients get back to the activities they love."
With over 3,000 cases to date, Mako Total Knee 2.0 began limited release in August 2022, and will continue to roll out in a phased approach in 2023, beginning in the United States and following with global launch activities in select markets.