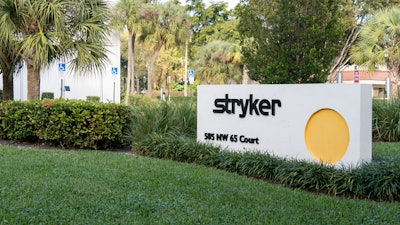 iStock
Stryker announced the launch of a nationwide, direct-to-patient marketing campaign, "Scan. Plan. Mako Can." Through this campaign, Stryker aims to continue to drive patient awareness of Mako SmartRobotics, an option for those needing joint replacement surgery due to arthritis of the knee or hip.
"'Scan. Plan. Mako Can.' is rooted in the foundation of Mako SmartRobotics," said Don Payerle, president of Stryker's Joint Replacement division. "We have an unwavering commitment to revolutionizing joint replacement technology and enabling surgeons to achieve enhanced outcomes for their patients. We are eager to share this campaign with patients experiencing joint pain so they can seek care and begin their journey towards returning to the activities they love."
Mako's AccuStop haptic technology enables surgeons to execute their plans with precision, helping to minimize tissue disruption. Mako SmartRobotics has demonstrated better outcomes, like less pain and quicker recovery times, compared to manual joint replacement surgery.
Additionally, by enabling products like Mako with digital capabilities, known as Advanced Digital Healthcare, Stryker is generating insights to drive improved clinical, operational and financial outcomes across the continuum of care.
The omnichannel "Scan. Plan. Mako Can." campaign will come to life through different assets and various media channels, including linear TV, streaming TV, social media, YouTube, programmatic/endemic and paid search. "Scan. Plan. Make Can." will begin rolling out to the public today.
Those living with joint pain are encouraged to speak with their healthcare professional about available treatment plans and whether joint replacement surgery is right for them. More information about Mako SmartRobotics is available at MakoCan.com.