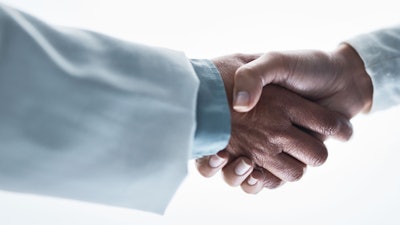 iStock
Laborie Medical Technologies, a diagnostic and therapeutic medical technology company, signed a definitive agreement today to acquire Urotronic, a Minnesota-based medical device company specializing in the application of its Optilume drug-coated balloon technology for use in interventional urology including treating urethral strictures and benign prostatic hyperplasia (BPH).
Under the terms of the agreement, the transaction consists of an upfront cash payment of $255 million, and up to an additional $345 million in potential commercial and reimbursement milestone payments. Net of Laborie's existing minority investment in Urotronic, the net upfront cash payment will be $232 million with net potential milestone payments of up to $314 million.
In conjunction with the Urotronic acquisition, Laborie will also make a $5 million strategic equity investment into GIE Medical, a clinical stage company spun out of Urotronic which is developing drug-coated balloon technology for treatment of strictures within the gastrointestinal tract which could, like Optilume urethral strictures, offer a highly differentiated and innovative solution for treatment of these conditions.
"There has never been a minimally invasive, combination drug-device therapy like Optilume before, leading to a highly disruptive, paradigm change for physicians treating urethral strictures and BPH," said Mike Frazzette, President, and CEO of Laborie. "With this acquisition, we will continue to advance innovative technologies by meeting multiple unmet medical needs and in doing so provide solutions that preserve and restore human dignity."
The Optilume paclitaxel-coated balloon technology was developed in response to patient and physician dissatisfaction with current solutions for urethral strictures and BPH. This innovative, proprietary technology represents a paradigm change from the methods currently used by urologists to treat these conditions and provides a minimally invasive treatment option for millions of patients suffering from these conditions globally.
"We are excited to announce this agreement with Laborie, and this acquisition will benefit men suffering from urethral strictures and BPH globally," said David Perry, President and CEO of Urotronic. "Backed by positive clinical data, the Optilume BPH therapy is truly groundbreaking as the only MIST option that doesn't require cutting, burning, steaming or a permanent implant. As global leaders in urology, Laborie will help drive the Optilume BPH technology forward."
"Patricia Industries is committed to supporting the Laborie and Urotronic teams in their mission to bring Optilume BPH to urologists worldwide and help them improve their patients' clinical outcomes. This transaction further enhances Laborie's long-term growth by adding an innovative product with strong growth potential into its product portfolio, and aligns with our organization's purpose of creating value for people and society by building strong and sustainable businesses," said Yuriy Prilutskiy, Head of Patricia Industries North America, a part of investor AB and owner of Laborie Medical Technologies.