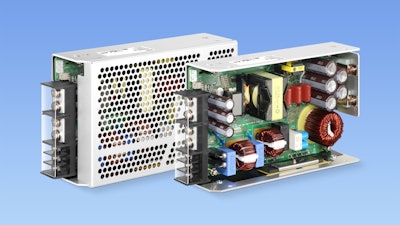 COSEL
COSEL today introduced new 800W free-air convection cooling power supplies, the AEA800F series. The AEA800F is able to deliver 300% peak power for a period of up to 3,000 milliseconds.
Designed for applications requiring a high level of safety, the AEA800F is certified according to the EN62477-1 (OVC III) standard for industrial applications and is approved in accordance with ANSI/AAMI ES60601-1, and EN60601-1 3rd Edition for medical applications.
The AEA800F is suitable for Body Floating (BF) applications and complies with 2MOPP (IN/OUT) and 1MOPP (OUT/FG) safety requirement. The AEA800F layout is optimized for free-air convection making it ideal for use in equipment being operated in low noise environments.
Additional features include:
An input to output isolation of 4,000 VAC.
Input to ground (FG) of 2,000 VAC.
Output to ground (FG) of 1,500 VAC.
An input voltage of 85 to 264 VAC.
3 output voltages available: 24 V, 36 V and 48 V with respective current ratings of 34 A (Peak 72.5 A), 22.7 A (Peak 48.4 A) and 17 A (Peak 36.3 A).
Output voltage adjustable using a built-in potentiometer.
Active Power Factor Corrector (PFC) for low harmonic current distortion.
Operable within an ambient temperature range of -20°C to +70°C.
Built-in inrush current, overcurrent, overvoltage protection circuits and thermal protection.
Open frame format that measures 50 x 127 x 203.2 mm (1.97 x 5 x 8 inches) and weighs 1.4 kg max (with cover).
For more information, visit https://en.cosel.co.jp/product/powersupply/AEA/ .