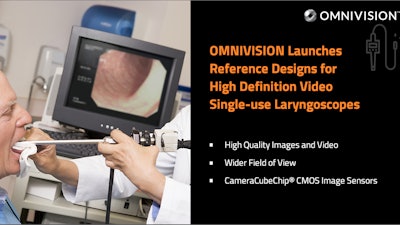 Omnivision
Omnivision, a developer of semiconductor solutions including digital imaging, analog and touch & display technology, today launched new laryngoscope reference designs that include a range of Omnivision products that help improve patient care by providing clear images for single-use video laryngoscopes. Visualization makes insertion of the endotracheal tube easier and faster and avoids failures in difficult airways, reducing the chances of complications and even death.
Omnivision's "ready-to-go" reference designs help medical device OEMs speed time to market in the development of laryngoscopes. They feature high quality images and a wider field of view (FoV), and include CameraCubeChip CMOS image sensors, low power mechanical designs, optics, and batteries along with capabilities for recording and playback.
"The video laryngoscope, a device used in the visualization of the airway, is quickly displacing traditional direct laryngoscopy," said Ehsan Ayar, product marketing manager at Omnivision. "Producing the best images of the larynx requires smaller z-height and superb optics, which is enabled by our OmniBSI and OmniBSI + technologies. Enhanced visualization helps to avoid endotracheal intubation failures in difficult airways that can lead to dental damage, laryngeal, dysrhythmia and cardiac spasm. Further, single-use devices eliminate cross-contamination that can result with reusable endoscopes."
The global video laryngoscope market approached $219.7 million in 2019 and is set to hit $795 million by 2027, exhibiting a CAGR of 17.4%. Driving the fast adoption rate is the fact that video laryngoscopy results in more successful intubations in a shorter period of time than traditional direct laryngoscopy.
The complete reference design for video single-use laryngoscopes includes:
OVM9724-RADA-R1―a small form factor, short-focus 720p CameraCubeChip that features a 1.4µm OmniBSI pixel with 62.8-degree FoV and 32mm-88mm depth of field, ideal for medical intubation/laryngoscopy.
OVM7695―a small form factor 1/13-inch VGA system-on-chip CameraCubeChip that uses a 1.75µm OmniBSI+ pixel and features a 61-degree FoV.
OV788―a single-chip, high definition video/audio processor that features ultra-low power consumption, fast boot-up, small footprint and requires no external memory. It can provide high quality video encoding or decoding up to 720p at 30 frames per second and has an image signal processor for RAW sensor connection. Its multiple sensor interfaces (3 DVP + 1 MIPI) opens up a wide variety of applications. It also has dual RISC processors with data and instruction cache for customized algorithms.
The reference designs are available now. For more information, visit OMNIVISION at MD&M West, booth #1275, taking place April 12-14, 2022 at the Anaheim Convention Center.