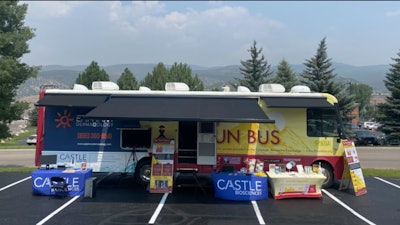 The Sun Bus
DermTech, provider of a non-invasive skin genomics platform, is sponsoring The Sun Bus, a community service provided by the Colorado Melanoma Foundation in partnership with Epiphany Dermatology, to bring free skin cancer screenings and public education to communities across the U.S. The Sun Bus is a mobile screening station and sun safety classroom that is expected to serve more than 50 locations nationwide in 2022.
The tour kicked off in April 2022 in Texas and will travel throughout Georgia, Missouri, Iowa, Kansas, Colorado, Wyoming, New Mexico and Arizona. Local volunteer dermatologists and physician assistants will provide free skin checks, skin cancer awareness and sun safety education to visitors.
"Now is the time to re-engage with skin cancer screening, since many people had their routine health checks interrupted by the pandemic," said Dr. Tamara Terzian, executive director of The Sun Bus. "A free skin cancer screen at The Sun Bus is a great way to get back on track."
The Sun Bus initiative aligns with one of DermTech's objectives to help eradicate melanoma deaths through precision genomics. The DermTech Melanoma Test is a non-invasive way to detect melanoma early and uses a Smart Sticker to gently lift skin cells from the surface of the skin, which are then tested for the presence of genomic markers associated with melanoma at DermTech's laboratory. A negative test result means there is greater than 99% probability that a mole is not melanoma.
"This sponsorship improves access to early melanoma detection," said John Dobak, M.D., CEO of DermTech. "After a time when so many people have delayed doctor visits, The Sun Bus and its skin cancer screening resources could not be more important. This vital program will bring hope and advancement in the fight against skin cancer, helping thousands of people along the way."