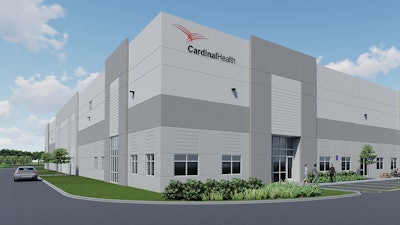 PRNewswire
Cardinal Health announced the addition of a new distribution center in the Columbus, Ohio, area as part of a multi-year warehouse modernization and growth plan. The new distribution center will support the company's at-Home Solutions business, a medical supplies provider and specialized business focused on providing comfortable care in the home for people with chronic and serious health conditions.
The 208,144 square-foot building will be the tenth U.S. distribution center for Cardinal Health at-Home Solutions. The new facility will integrate logistics technology, including robotic storage capabilities, conveyance and the Kinaxis RapidResponse platform to optimize digital supply chain planning. All technology and automation will work alongside Cardinal Health employees to deliver operational efficiencies as well as enhanced employee and customer experiences, while supporting fluctuations in volume and labor.
Located in Grove City, the distribution center will create approximately 100 new job opportunities for the Ohio Valley market and is estimated to be fully operational in November 2022.
The new location joins another recently announced 574,670 square-foot Cardinal Health distribution center, also expected to open later this year in Columbus.