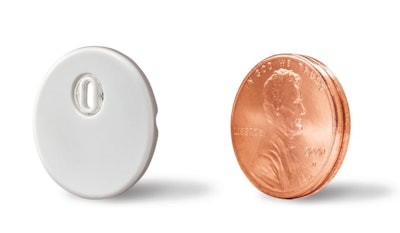 Abbott
Abbott announced the U.S. Food and Drug Administration (FDA) cleared its next-generation FreeStyle Libre 3 system for use by people four years and older living with diabetes.
FreeStyle Libre 3 System Features:
Greater accuracy – with a 7.9% overall mean absolute relative difference (MARD), the FreeStyle Libre 3 system is the most accurate 14-day continuous glucose monitor (CGM) with readings sent directly to a smartphone every minute. It's the first CGM to demonstrate a sub-8% MARD – which is the standard way to measure continuous glucose accuracy – the lower percentage, the better.
Smallest and thinnest – at the size of two stacked U.S. pennies (worn inconspicuously on the back of one's upper arm), it's the smallest and thinnest CGM sensor in the world.
Even easier to use – with a one-piece applicator the sensor is uncomplicated to apply.
Strongest Bluetooth integration with a range of up to 33 feet – 50% further range than other CGMs.
Abbott will price the FreeStyle Libre 3 system the same as previous versions with the goal of enabling the greatest number of people living with diabetes to benefit from the next-generation technology.
"We continue to disrupt the notion that CGMs have to sacrifice quality or accuracy for affordability," said Watkin. "Access to breakthrough diabetes technologies should not be out of reach for the people who can benefit most from them. Innovation for access and affordability is a core pillar in Abbott's business and sustainability strategy."
The FreeStyle Libre 3 system was cleared for use with the FreeStyle Libre 3 iOS and Android mobile apps, which enable users to view their glucose levels in real time, track their glucose history and trends, and set up optional alarms plus notifications to help them be alerted of serious medical events like hypoglycemia.
The mobile app integrates with the FreeStyle Libre digital ecosystem, including LibreView and LibreLinkUp, enabling caregivers and healthcare professionals to remotely monitor loved ones and patients as needed.
AvailabilityThe FreeStyle Libre 3 sensor will be available at participating pharmacies later this year