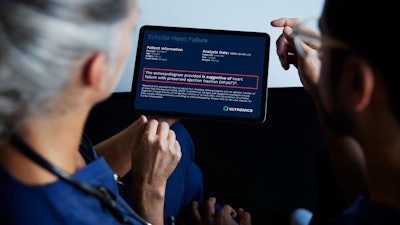 Ultromics
Ultromics' EchoGo Heart Failure, an AI solution for echocardiography with the potential to revolutionize the diagnosis of heart failure with preserved ejection fraction (HFpEF), has received US Food and Drug Administration (FDA) clearance. The news puts EchoGo Heart Failure in the 7% of devices that have gone on to obtain full marketing authorization after being awarded FDA breakthrough status.
The clinical and technological breakthrough was developed by echocardiography and AI experts from Ultromics, a spin-out of the UK's University of Oxford, in collaboration with Mayo Clinic. The device uses AI to accurately detect HFpEF from a single echocardiogram image, which accounts for 50% of the 64 million cases of heart failure worldwide and has overtaken heart failure with reduced ejection fraction (HFrEF) as the most prevalent form of the deadly disease.
This development marks a huge leap forward from traditional diagnostic algorithms for HFpEF, a heterogeneous syndrome that can be challenging to identify, and is missed in up to 75% of cases. Current approaches include time-consuming and often inconclusive diastolic function assessment, and require a highly specialized, increasingly rare skillset, and often invasive testing. To counter this, EchoGo Heart Failure has a vital role to play in the future HFpEF landscape.
The FDA clearance comes just weeks after Ultromics demonstrated its commitment to addressing this area of significant unmet medical need by joining the FNIH (Foundation for the National Institutes of Health) Accelerating Medicines Partnership Heart Failure (AMP HF) program. The $37 million, five-year multi-stakeholder collaboration, managed by FNIH, is a collaboration between the National Institutes of Health (NIH) and the National Heart Lung and Blood Institute (NHLBI), the FDA, the American Heart Association (AHA), the American Society of Echocardiography, and industry members. The partnership seeks to develop a deeper understanding of HFpEF and develop more precise strategies and targeted therapies that could improve the lives of millions and improve survival while minimizing exposure to invasive techniques.
There is an urgent need to develop predictive tools to help diagnose HFpEF patients. Patients can now benefit from new therapy drugs, such as SGLT2is, which has been shown to significantly reduce both hospitalizations and potentially fatal adverse events. The simultaneous clearances of EchoGo Heart Failure to improve HFpEF detection and SGLT2 to improve treatment, represents a giant leap forward in addressing the biggest unmet need in cardiovascular medicine.