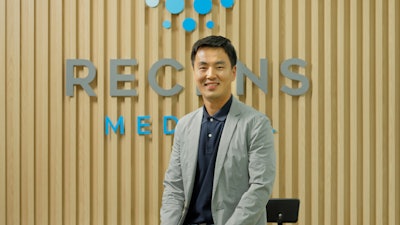 UNIST
RecensMedical, a UNIST-based faculty startup company founded by Department of Mechanical Engineering Professor Gun-Ho Kim, has recently been honored with the $5 Million Export Tower award at the 59th Trade Day Ceremony, which was held at Convention and Exhibition (COEX) on December 5, 2022 in South Korea.
The $5 Million Export Tower award is given to companies that significantly contribute to increasing overseas exports of Korea-based products. RecensMedical had the honor of being given the award for accomplishing export growth and expanding in markets abroad with its non-contact precision cooling treatment device, namely TargetCool.
TargetCool is an FDA Class II/ MFDS Class III/ CE Class ll medical device that provides precise, controlled tissue cooling. It uses cryogenic refrigerant (CO₂) to control the target temperature to rapidly cool the affected area, minimizing injection-related pain and inflammation.
Established in 2016, RecensMedical is an innovative tech company that focuses on rapid precision temperature control technology with 60 patent applications.