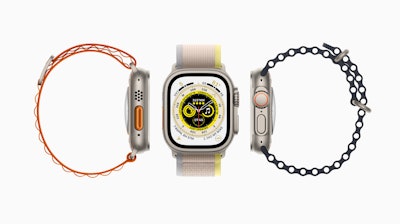 Apple
The Apple Watch infringed a Masimo pulse oximeter patent by using light-based technology in its wearable technology, according to a ruling handed down this week by a U.S. judge.
According to Masimo, Apple first released its pulse oximeter sensor with the Apple Watch Series 6 in 2020 and continues to use it in the current Apple Watches. The United States International Trade Commission will now consider whether to implement a ban on imports of these Apple Watches.
"We are happy that the [administrative law judge] recognized Apple's infringement of Masimo's pulse oximetry technology and took this critical first step toward accountability," said Masimo CEO Joe Kiani in a statement. "Today's decision should help restore fairness in the market. Apple has similarly infringed on other companies' technologies, and we believe today's ruling exposes Apple as a company that takes other companies' innovations and repackages them."
"We respectfully disagree with today's decision, and look forward to a full review by the Commission," Apple said in a statement obtained by Reuters.
The decision comes after Apple last year filed a lawsuit alleging Masimo of infringing on Apple Watch patents in the design of its W1 smartwatches.