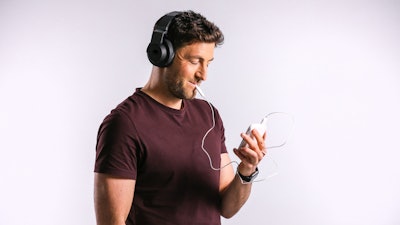 Neuromod Devices
Neuromod Devices announced today that the US Food and Drug Administration (FDA) has granted De Novo approval to Lenire, the first bimodal neuromodulation device of its kind to be approved by the FDA for the treatment of tinnitus.
Lenire is a combined acoustic and electrical intraoral stimulation device for the relief of tinnitus. The device's novel bimodal neuromodulation technology includes three parts. Bluetooth® headphones, which play custom sounds to the ear to activate the auditory nerve, a Tonguetip, which is a proprietary intraoral device that also activates nerves by sending mild electrical stimulation to the surface of the tongue, and a controller that allows patients to adjust the duration and treatment intensity.
The FDA's De Novo approval is based on the success of Lenire's third large-scale clinical trial, TENT-A3, supported by Real-World Evidence from 204 patients. Over the entire trial, 79.4% of the patients experienced a clinically significant improvement, 82.4% were compliant to bimodal treatment, and 88.6% responded that they would recommend Lenire as a tinnitus treatment. The TENT-A3 primary endpoint analysis showed that patients that were at least moderately bothered by tinnitus, which includes patients in the moderate, severe and catastrophic categories as defined by the Tinnitus Handicap Inventory (THI), achieved a clinically meaningful improvement in tinnitus following the bimodal treatment phase of the trial. The analysis showed that this patient group were more likely to achieve a clinically meaningful improvement using Lenire's bimodal sound and tongue stimulation than sound therapy alone7. TENT-A3 also demonstrated that Lenire is inherently safe with zero serious adverse events. These efficacy, compliance and safety findings were highly consistent with the Real-World Evidence from 204 patients included in the De Novo submission.
TENT-A3 was a controlled clinical trial, designed by Neuromod to meet the FDA's requirements, that compared the effects of 6 weeks of bimodal neuromodulation with 6 weeks of sound therapy alone. The trial was conducted at three independent sites from March to October 2022 with 112 enrolled participants. The De Novo approval of Lenire is significant as it acknowledges Lenire as a technological and clinical pioneer for tinnitus treatment. This approval establishes a new regulatory category for medical devices in the USA.