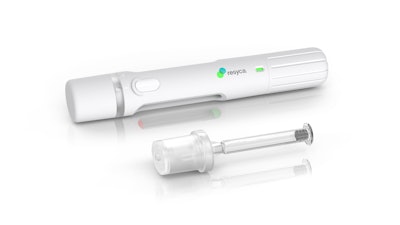 Stevanato
Stevanato announced a collaboration with Recipharm to support the development and production of pre-fillable syringes for use in Recipharm's soft mist inhalers. As part of this collaboration, Stevanato Group will provide and manufacture its glass pre-fillable syringe Alba® assembled with the Integrated Spray Module (ISMTM) of Recipharm's soft mist inhaler technology, the Pre-Filled Syringe Inhaler (PFSITM).
This collaboration highlights Stevanato Group's capabilities as a one-stop shop offering contract drug manufacturing organizations support in their drug development programs, from the clinical phase through to market release. Stevanato Group's Alba syringes feature an internal coating based on silicone oil, which is cross-linked with the glass surface, thereby minimizing sub-visible particle release and aiming to ensure superior performance during delivery.
The combination of the Alba syringe and Recipharm's soft mist inhaler technology delivers sensitive drug products more efficiently to the respiratory airways and provides biopharma companies with a containment solution featuring enhanced stability and safety. With Stevanato Group taking responsibility for the complete primary drug package, Recipharm's focus is on the design and manufacture of the spray technology, the inhalation device, and the fill and finish of the product.
Recipharm's soft mist inhaler (PFSI) is developed, manufactured, and licensed by Resyca® and is supplied as a pre-filled and ready-to-use inhalation device.