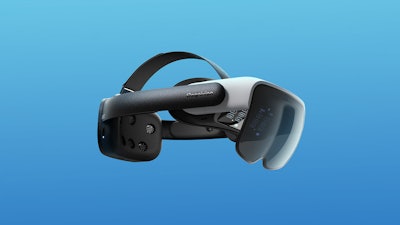 Cognixion
Cognixion, a developer of noninvasive Brain-Computer Interface (BCI) and Augmented Reality (AR) technology, announced today that its flagship device, the Cognixion ONE Axon, has been granted U.S. Food and Drug Administration (FDA) Breakthrough Device designation. The designation will allow the company to streamline their development and validation process with prioritized interactive feedback from FDA review staff in preparation for regulatory submission. This special FDA Breakthrough designation is awarded to devices that demonstrate the potential to provide more effective treatment of life-threatening or irreversibly debilitating diseases or conditions for which no clear alternatives exist.
The Cognixion ONE is a revolutionary assisted reality device — the bionic combination or AI, Augmented Reality and Assistive Technology — designed to help people with severe motor impairments communicate and interact more effectively and independently with the world around them. The device utilizes electroencephalogram (EEG) technology to provide a noninvasive brain-computer interface (BCI) enabling patients with advanced disease progression to communicate their responses with their thoughts and mental attention in a wearable, augmented reality headset. Integrating Artificial Intelligence (AI) such as GPT large language models that run on the device with contextual predictions, the device aims to rapidly support the user's communication intentions and desired outcomes, providing suggestions that can be quickly selected and communicated audibly and visually on the front visor as a communication aid.
The device has been specifically designed to help individuals with neurodegenerative conditions such as Amyotrophic Lateral Sclerosis, also known as ALS or Lou Gehrig's disease and MND (Motor Neuron Disease) as well as acquired conditions such as traumatic injuries and cerebral palsy that result in severe motor impairments. At present, no such cleared device exists which can allow fully paralyzed or locked-in patients to communicate once the current standard of care, eye-tracking, is no longer usable for their disease state due to ocular motor decline.
While a number of neurotech companies are developing invasive BCI technologies including Elon Musk's Neuralink aimed at assisting patients with communication abilities, Cognixion's device could be prescribed and utilized without the need for surgical procedures or significant training, providing a new level of independence and autonomy to individuals who have been unable to communicate effectively due to their conditions. With planned further development, Cognixion ONE could become a one-of-a-kind platform, aggregating additional inputs to restore life changing abilities that have been lost to people with loss of language or personal agency.