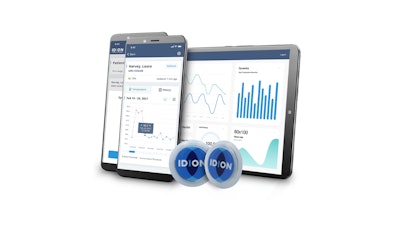 AION
AION Biosystems has received U.S. Food and Drug Administration (FDA) 510 (k) clearance of its iTempShield device and software system. iTempShield is approved for use on adults and children five years of age and older in hospitals, out-patient healthcare facilities, remote patient monitoring environments, and for over-the-counter sale to consumers.
This quarter-sized, skin-wearable device is supported by cloud-based software and proprietary algorithms. The platform enables continuous measurement of body temperature for a variety of clinical applications such as oncology sepsis monitoring, post-surgical infection detection, long-term care monitoring, and consumer home health. AION Biosystems will primarily focus on early infection detection in cancer patients and long-term care residents.
iTempShield adheres to the surface of the skin of the chest and can function without recharging for up to 60 days, aiding patient compliance. The battery life also makes iTempShield eligible for device reimbursement in hospital and health system environments via CMS approved remote patient monitoring CPT codes, which will generate recurring revenue for providers while benefitting patients.
Body temperature becomes elevated very early in patients who are developing an infection, and is the single most important physiologic parameter in predicting sepsis. As a result, AION BioSystems has intensely focused on measuring temperature more accurately than any other skin-applied device currently cleared by the FDA for medical and consumer use. iTempShield achieves this groundbreaking accuracy – it is 4x more accurate than an oral thermometer1 – by calculating body temperature using a sophisticated library of AI-powered algorithms.
iTempShield is currently in use at Ellis Medicine's Roswell Park Cancer Institute. The technology is also being deployed broadly across the City of Schenectady through an innovative Smart City program.
The standard of care for cancer patients at risk for infection is to take their oral temperature when they feel unwell. By the time they take their oral temperature, infection has often significantly progressed. In addition, oral and other kinds of thermometers vary in accuracy, and many individuals do not know how to take oral temperature correctly. Early infection detection can mean life or death for severely immune compromised patients. For those with sepsis, every hour delay of antibiotics means an eight percent increase in the risk of death.2 In fact, 60 percent of cancer patient deaths are related to infection, and nine percent are caused by sepsis.