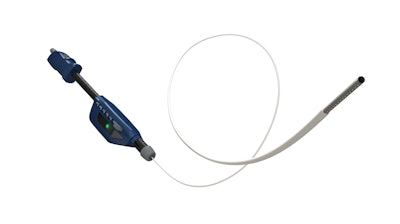 Limaca Medical
Limaca Medical announced today that its Precision GI Endoscopic Ultrasound (EUS) Biopsy Device received 510(k) clearance from the U.S. Food and Drug Administration (FDA). This follows Limaca's receipt of FDA Breakthrough Device Designation for its Precision GI.
Precision GI obtains biopsies for diagnosis of pancreatic cancer and other life-threatening GI cancers more quickly and less traumatically than current products. The automated device is designed to provide for more efficient and effective diagnosis of GI cancers by yielding significantly superior quality and quantity of diagnostically relevant biopsy tissue. Limaca's First-In-Human EUS-Biopsy cases in suspect pancreatic cancer patients was published by iGIE, on 26 April 2023.
"While all existing endoscopic ultrasound fine needle biopsy (EUS-FNB) devices require manual hand operation, Precision GI™ features a unique motorized, automated rotational cutting needle for successful, safe, and high-quality tissue acquisition. Today's endoscopic biopsy devices have limitations in consistently obtaining quality tissue with sufficient quantity, which can result in sample tissue fragmentation, inadequate tissue amount, and blood contamination," commented Prof. Iyad Khamaysi, MD, Director of the Invasive Endoscopy Unit at the Rambam Health Care Campus.