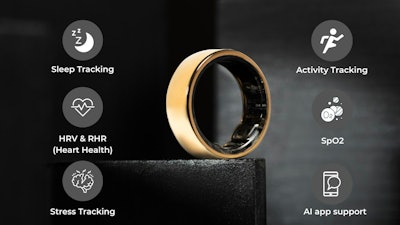 Bonatra
Bonatra has launched wearable smart rings, the second device that works with the Bonatra App, along with the continuous glucose monitors. The Ring monitors a range of health parameters, including heart rate, HRV, SpO2, sleep and sleep quality, body temperature and steps.
Bonatra's Smart Ring X1 provides insights into various aspects of health by generating a sleep score, readiness score and movement index. It also provides a metabolic score similar to those that were already generated by the CGMs. The sleep score feature employs advanced algorithms to analyze sleep stages, duration, and quality, resulting in improvements in sleep patterns and overall well-being. The readiness score provides users with an assessment of their body's preparedness for the day, enabling them to make informed decisions about their activities. The movement index provides an aggregate measurement of your physical activity throughout the day.
Made from titanium alloys, the Smart Ring X1 offers durability and elegance. Weighing just 4 grams, this lightweight accessory is ideal for individuals leading active lifestyles. The hypoallergenic medical-grade resin ensures comfort during prolonged wear, while the IP68 rating makes the Smart Ring X1 suitable for various activities including swimming, deep diving, sailing, surfing, and trekking. Bonatra offers a choice of 4 colors and 6 sizes to suit everyone's taste.