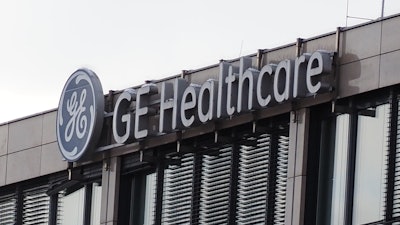 iStock
GE HealthCare has received U.S. FDA 510(k) clearance for the new version of digital expert access with remote scanning, the first remote patient scan solution with 510(k) clearance.
Digital expert access enables the sharing of expertise, best practices and in-the-moment advice, as well as real-time, remote console control.
Now, with the new version of digital expert access with remote scanning, this innovative solution has evolved to also enable remote patient scanning, which is compatible with GE HealthCare magnetic resonance (MR) devices.
Additionally, GE HealthCare has entered into an exclusive distribution agreement with IONIC Health, an independent Brazilian-born global technology company transforming healthcare through novel automation technologies, which include remote solutions to automate, monitor, access, support, educate and teleoperate in healthcare. IONIC Health's 510(k)-pending nCommand Lite technology is designed to include vendor-agnostic remote scanning capabilities. This strategic collaboration's goal is to enable GE HealthCare to provide a multi-vendor, multi-modality remote scanning solution to healthcare systems and patients around the globe.[i]
In a modern radiology practice, clinicians are required to manage a fast-growing number of imaging procedures and imaging experts are in especially short supply and high demand. Cost pressures and resource scarcity have also intensified the need for greater collaboration across multiple sites of service and the migration of diagnostic imaging beyond hospital campuses.
Consequently, patients can experience long wait times or rescheduled appointments due to limited imaging resources, potentially disrupting their care and prolonging the timeline from scan to diagnosis and treatment. A survey of 1,125 radiology department [leaders/administrators] revealed that the main challenge in radiology departments over the next 1-3 years is anticipated to be operational efficiency (73%).[ii]
Additionally, the Association of American Medical Colleges (AAMC) projects a shortage of up to 41,900 radiologists in the United States in 2033.
GE HealthCare offers solutions to streamline workflows and increase efficiency including effortless operations to assist with remote scanning, training, protocol management, and collaboration.
Digital expert access is a real-time, virtual solution that enables collaboration among radiology teams, within a single hospital or across multiple locations. It allows clinicians to easily share expertise, best practices, and advice or remotely access key controls in the scan room to provide immediate help.
The new version of digital expert access with remote scanning introduces a feature that enables the remote clinical expert user to initiate a scan on GE HealthCare MR devices from locations inside or outside of the radiology suite or any clinical facility, as long as aligned with respective regional regulations and safety guidelines.
To further enhance remote operations, GE HealthCare has entered into an exclusive distribution agreement with IONIC Health. The nCommand Lite system by IONIC Health is a 510(k)-pending technology designed to remotely provide real-time guidance to the licensed technologist operating the scanner.[*]
Additionally, it is intended to offer multi-vendor and multi-modality capabilities, including MR, computed tomography (CT) and positron emission tomography (PET) - CT, enabling a differentiated remote scanning solution which will help optimize workflow across disparate imaging fleets. This new collaboration demonstrates GE HealthCare's ongoing dedication to shaping the future of healthcare through innovation and strategic collaborations that streamline workflow and increase operational efficiency, ultimately helping enhance patient care and outcomes.
For more information on remote operations and scanning, visit the GE HealthCare (#7326) booth at the Radiological Society of North America 2023 Annual Meeting.
* and [i] nCommand Lite is 510(k)-pending at the U.S. FDA. Not available for sale in the U.S. Availability in other markets is subject to local regulatory approvals.
[ii] GE HealthCare data and market research.