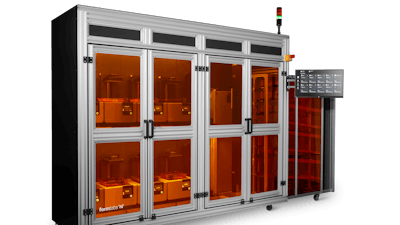 FormLabs
Formlabs, a 3D printing company, has developed two new biocompatible materials, BioMed White Resin and BioMed Black Resin, designed for applications where opaque materials are preferred for functionality or aesthetic quality. Formlabs said the two resins further reinforce its commitment to developing new medical grade materials and expanding access to point-of-care manufacturing for healthcare professionals.
"The value of 3D printing within the healthcare industry cannot be understated," said Gaurav Manchanda, director of medical market development at Formlabs. "The 3D printing applications in healthcare are vast, from improving patient education through more accurate, real-time modeling, to supporting a more personalized approach to medical devices to better outcomes in the operating room with 3D printed surgical guides. These applications each require materials that are both effective and safe for medical uses. The addition of these resins to Formlabs' materials library will allow for greater flexibility in design and function and can be used in a variety of applications ranging from medical device manufacturing, biopharmaceutical processing, and consumer goods such as medical device components, wearables, and custom dental appliances."
These new biocompatible materials will be USP Class VI certified and will provide aesthetics that enable improved patient outcomes by providing access to improved ergonomics through medical device iterations, surgical planning, and custom tools for healthcare research. Formlabs is committed to expanding its material library to further eliminate barriers and support further innovation of medical practices that benefit both providers and patients.