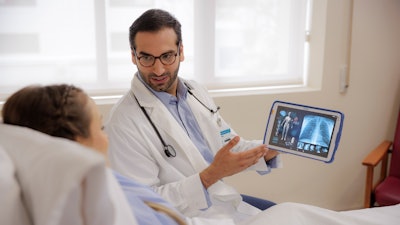 Business Wire
Zebra Technologies today announced the ET4x-HC series, including the Android-based ET40-HC and ET45-HC tablets, which it said are built to improve staff efficiency, care quality and the patient experience.
The ET4x-HC series has a medical-grade housing that can handle constant disinfecting from some of the harshest disinfectants to prevent the spread of germs and help ensure the safety of healthcare professionals and their patients.
The tablets are designed for caregivers in acute settings at the patient bedside and in their homes and enable an improved patient experience when loaded with hospital engagement, educational and food service apps. The large high-resolution 10-inch display makes it easier for nurses to read and add notes to a patient's electronic health record as well as view the finest details of a photo or x-ray. The ET4x-HC also features a dedicated emergency alert button that can be programmed to call for additional help or launch an app to follow protocols in the event of a medical emergency.
The ET4x-HC series features data capture and communications capabilities to help further improve productivity and patient care in healthcare settings. The new tablets offer an integrated 2D scanner featuring point and capture technology, eliminating the need for caregivers to align the barcode and scanner and helping error-proof patient identification and medication administration.
A 13-megapixel rear-facing camera can capture photos to document wound healing while the front-facing camera enables video calls for telehealth appointments or remote video visits from family members. The stylish ET4x-HC series of tablets are the only ones in their class to offer Bluetooth 5.1 and the fastest Wi-Fi and cellular speeds with support for Wi-Fi 6, 5G and citizens broadband radio service (CBRS), ensuring rapid connectivity inside or outdoors.
The flexible ET4x-HC series can be tailored for specific tasks with a portfolio of accessories. Hand straps provide caregivers with an easier, more secure way to carry tablets and a new presentation stand can turn the tablets into a kiosk for patient self-check-in and registration. With the new workstation cradle, the ET4x-HC series can be turned into a workstation on demand at a nurse station or Workstation on Wheels. VESA mount adapters make it easier to mount the ET4x-HC series at the patient's bedside, enabling them to view their own health information and order food.