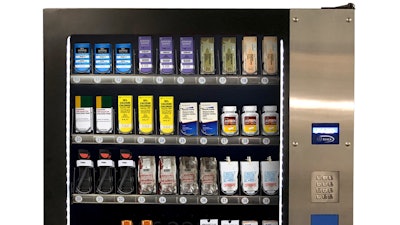 Medline
Medline today announced a new nationwide agreement with VendNovation, a provider of cloud-based automated vending solutions. Medline will distribute the company's Controlled Access Pharmacy (CAP) unit to help Emergency Medical Services (EMS) providers enhance efforts around reducing essential medical supply waste and tracking inventory with real-time reporting.
Medical supply waste has a significant impact on the financial well-being of EMS providers and the carbon footprints of the communities they serve. VendNovation is helping reduce manual tracking of inventory and said EMS providers have reported cost savings exceeding 40%.
VendNovation's CAP unit scans an EMS worker's ID badge and all withdrawals, such as pharmaceuticals, respiratory and diagnostics products, are cataloged and time stamped. The system provides alerts when inventory is low or products are near expiration. The software is able to generate a number of reports, including usage reports by individual personnel, re-stock lists and current inventory.
"Our distribution partnership with VendNovation is an extension of our commitment to find new ways to help EMS providers enhance operations, reduce costs and increase access to critical supplies," said Rhonda Baliff, Medline EMS division manager. "VendNovation has a long-standing history of bringing new technology to vending solutions and we're excited to expand their reach to the EMS sector to simplify inventory management tasks for our customers."